---
Some Red Flags to Be Aware of While Hiring Cheap Photobooths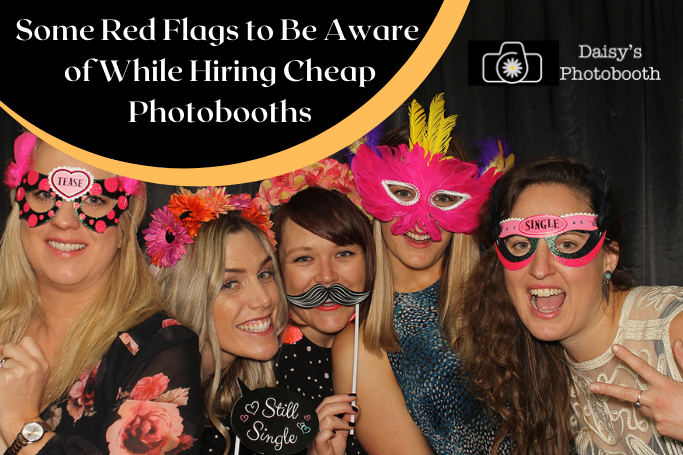 The rate at which photo booth hire companies hire packages vary significantly. That depends upon the quality of the booths, the accessories, and the value additions they offer along with the package. But then, there are a few that would hire out photobooths at a much cheaper rate.
However, there's a catch. In their endeavour to hire out the packages at cheaper rates, these companies would compromise on quality. That is the reason, you need to be extra cautious while you hire a cheap photobooth package. On this page, let us discuss a few points that you need to keep in mind, while you look for a suitable package.
Ensure You Get Customised Photo Booths
One of the main reasons behind hiring these photobooths is their ability to add more fun and frolics to the event or party you are hosting. Thus, you must ensure that the booth you hire comes in a custom look and feel, so much so that it gels seamlessly with the mood of your party. Otherwise, the booth will look like a fish out of the water in your event.
Thus, when it comes to hiring a cheap party photo booth in Melbourne, you must ensure that it comes with a custom look and feel, with a fitting backdrop, lights and accessories that will meet your needs.
It Must Come with Accessories
Just because you are opting for a cheap photobooth hire package, does not mean that the booth will not come with the standard props and other accessories. That should not imply under any circumstances, that you will have to pay extra for the accessories. Thus, you have to be pretty careful about the props and other accessories, which are rented out by the photo booth hire company in Melbourne you are eyeing on.
Have a Look at the Terms and Conditions
You must take a closer look at the terms and conditions of when you hire the booth. Ensure that there is no hidden cost, or any clause that will not be acceptable for you. See whether they are going to charge you for the idle time.  And last but not the least, ensure that the company is fully insured. This is to guarantee that you will be saved from financial responsibilities in case of any mishap.
Ensure There Is the Provision of Unlimited Printouts
Every reputed party photobooth hire service in Melbourne like anywhere else would offer unlimited printouts to the guests during the hire hours. That's the rule of thumb that prevails in the industry. So, when the hire package is on the lower side, you must ensure that the company follows that rule and offers unrestricted printout of photos to your guests till the hire duration does not get over.
See if a Techie Accompanies the Booth
This is an extremely important point that you should never forget to consider. Ensure the package includes a technician who will be stationed at the party venue. The responsibility of the bloke will not only be assisting your guests clicking photos, but also taking care of any technical glitch that may occur during the party, leaving you with a red face. And ensure that it does not carry any extra cost.
Therefore you see, when you hire a party photobooth at much lesser cost, these are the points that you need to look for, so that you really end up in a win-win situation vis-à-vis the hire company.
When you hire Daisy's Photobooth you can be assured to get affirmative answers on all these fronts as we always put maximum focus on quality and customer satisfaction, though our hire packages never carry high costs. Thus, to know further details, call us at 0421333080 during our office hours.